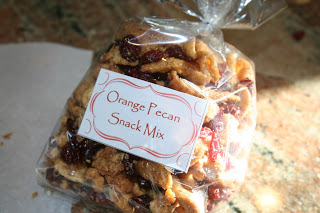 I started making this many years ago. I think I may have originally gotten the recipe from one of those Betty Crocker little cookbooks that are in the checkout line at the grocery or WalMart. I tweaked it a little and have made it about a gazillion times for womens' events, welcome bags for the girls weddings, (so you know it must be good!) and many Christmases. I had forgotten that I like it best with pecans. They are expensive right now and I used cashews, which are relatively inexpensive. But I think it is much better with pecans. And now another great use for it, Super Bowl Sunday. It makes alot so you can set it around the house in several bowls so your guests can munch on it all night.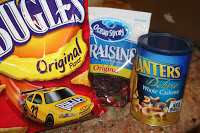 Bugles can only be found at WalMart. I went to several grocery stores and also Target and Sams. They are in the snack aisle, not the chip aisle. The large bag makes a double recipe. A double recipe will make about 8 to 10 good nice size bags for gifts.


Double Recipe (you might as well use the whole bag, remember when Bugles used to come in a box. The original recipe calls for one box. I have doubled it and you will use one large bag 14.5 oz.)


1 (14.5 oz.) bag Bugles
1 (21 oz.) cashews or 4 cups pecans
4 egg whites
4 Tbsp. orange juice
zest from 2 oranges (can use these for the juice)
2 2/3 cup sugar
4 tsp. cinnamon
2 cups dried cranberries

Heat oven to 275 degrees. Spray 2 cookie sheets, or one large one with Pam. Don't over fill the pan. It will be easier to stir if you do not have too much on the pan.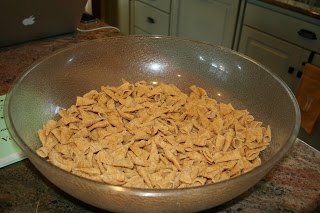 Pour Bugles and nuts in a very large bowl.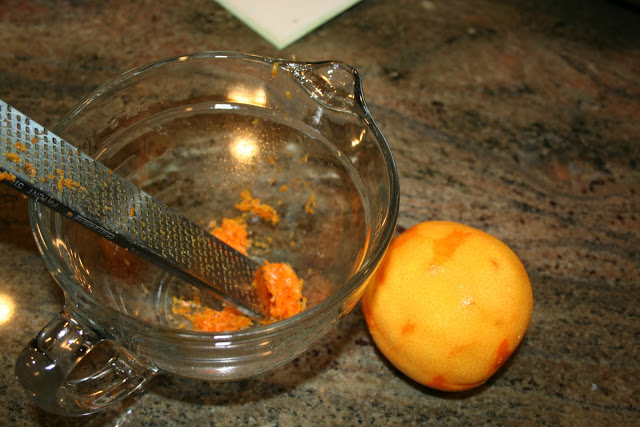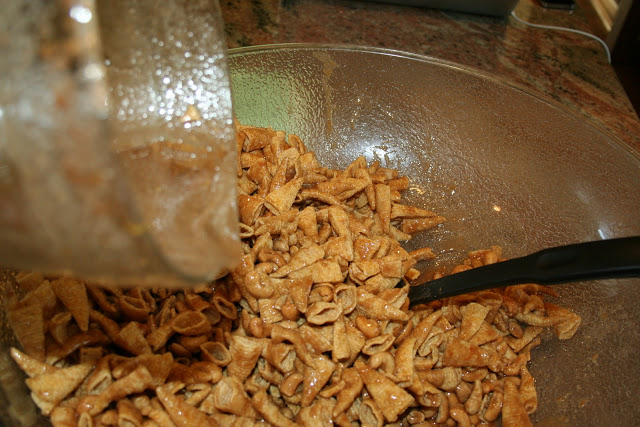 In at least a 4 cup bowl, mix orange zest, egg whites, sugar, orange juice and cinnamon. Mix with a whisk until foamy. Pour over the Bugle and nuts and gently stir until evenly coated. Spread in pan(s). You can do it in one pan if you are pressed for time or only have one oven. Just a little harder to stir and not spill it all over the oven.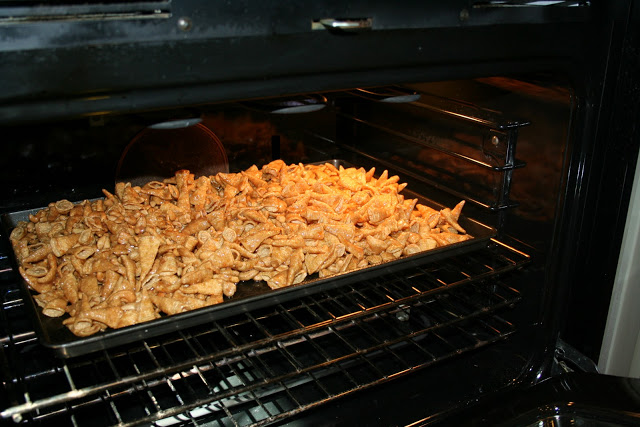 Set the timer for 15 minutes. Bake at 275 degrees for 15 minutes. Stir, reset timer for 15 minutes. Stir. Add cranberries. Return to oven, and bake 15 more minutes. Remove from oven. Spread on parchment paper or clean countertop. Allow to cool completely. Store in airtight container or place in bags for gift giving.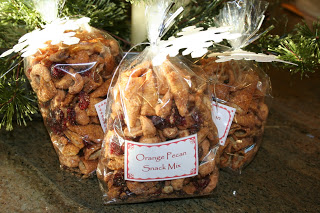 Some other finger foods and dips you might want to try from my blog.